Clark's Fine Art & Auctioneers Inc.
Saturday October 25th 2014 at Noon
Important American & European Paintings, Prints & Sculpture.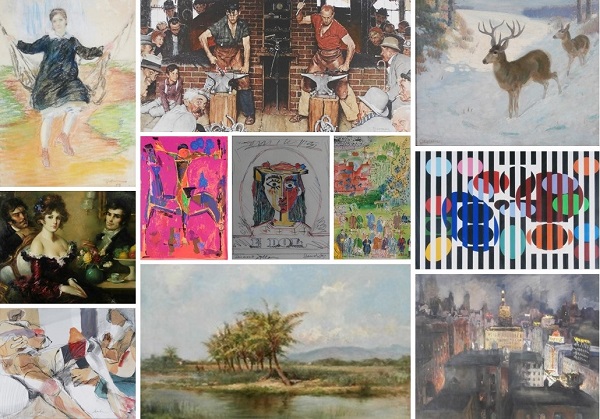 Illustrated rows: Jean Baptiste Armand Guillaumin 1913 color pastel, Norman Rockwell lithograph,
Edwin Deming painting, Jose Puyet painting, Marino Marini lithograph, Robert Dowd drawing,
after Raoul Dufy FEE ELECTRICITEE 1953 ten lithographs, Yaacov Agam seven screenprints,
Phoebe Beasley collage, David Howard Hitchcock 1896 Hawaiian painting, Frank S. Herrmann NYC painting.
Preview Tuesday Oct. 21st to Friday Oct. 24th
Daily 10 am to 5 pm. Or by Appointment.
Preview Saturday Oct. 25th at 10 am. Auction starts at Noon.
Use the link below to sign up for live internet bidding.

Please contact us at gallery@pacbell.net for email invitations
Contact Bid by Telephone Absentee Bid Form Past Sales Conditions of Sale
Consignments Special Press Release Gallery Exhibitions
Clark's Fine Art & Auctioneers Inc.
14931 Califa Street space A Sherman Oaks, California 91411 USA
(818) 783-3052 Fax (818) 783-3162 email gallery@pacbell.net
Buyer's Premium 20%, Thirty Day Guarantee
Consign Now For Our Next Auction.
Clark Cierlak principal auctioneer, 37 years in the Fine Art Business.
John three sixteen